HISTORY
TARMOND was established in 1981
TARMOND was established in 1981 in Gebze, the industrial region of Kocaeli, just 30 km outside of Istanbul in a modern production facility built on 10,000 square meters of owned land.
Founder of the company, Mustafa Sevket Sipahi (1916-2005), an agricultural engineer with a Master of Science degree from Louisiana State University (1946) in Agricultural Economics, had founded an agricultural chemicals company in 1956, which was one of the pioneers in Turkey at the time. It was and still is the market leader in agricultural chemicals sector. After serving as the General Manager and CEO of that company for 26 years, he established TARMOND in 1981 and led the company for 24 years until his passing away in 2005.
The company is being led by his grandchildren who are the 3rd generation in the company. Sipahi was well known for his very high ethical values and honesty in the Turkish industrial sector and we are trying our best to keep the family and company reputation for high ethical and moral standards.
TARMOND, which started out as an agricultural chemicals company diversified its lines of business to include automotive and industrial oils in 1987.
In 1987 ESSO made the decision to invest in Turkey and chose TARMOND to outsource their filling operations for their motor oils. Esso engineers modified the TARMOND factory for motor oil blending and filling.
After 1987, TARMOND shifted most of its production to Automotive and Industrial oils manufacturing, as well as, antifreeze and auxiliary automotive products. Since then, many multinationals have outsourced their lubricants and anti-freeze production to TARMOND.
TARMOND has been awarded ISO 9001 in 2001, ISO 14001 and ISO 18001 in 2007.
---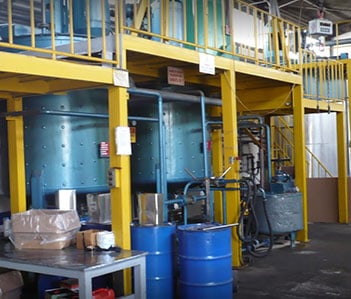 Outsourced Customers in TARMOND History:
---
Esso Lubricants (1987-1990)

Offering filling services for motor oils

ELF (1990-1994)

Blending and filling services for all motor, industrial oils and antifreeze

TOTAL (1991-1994)

Blending and filling services for all motor, industrial oils and antifreeze

SHELL (1993-1997)

Blending and filling services for textile oils and antifreeze

FIAT LUBRIFICANTI (1995-2008)

Blending and filling services for all motor, industrial oils and antifreeze

CASTROL (1997-2002)

Blending and filling services for motor oils and anti-freeze

ExxonMobil (2000-2009)

Blending and filling services for antifreeze and oil additives. Approved contractor as third party blender
Outsourced Customers To Date:
---
Filling of their heavy duty engine and transmission oils since 2011. This has been a growing business since then.
Supplying many industrial oils including a specific VCI containing rust preventive oil and only two producers in Turkey are approved for this product, one of which is Tarmond.
Since 2008, manufacturing their private label automotive oils for a Denmark based hardware department store with over 100 stores across Scandinavia with a wide selection in tools, equipment for garden and home, as well as, cars.
Since 2013, manufacturing motor oils for the group that represents Japanese and Korean automobile brands in Turkey, as well as, Italian and Korean tractors.
Since 2014, manufacturing motorcycle oils for Europe's largest online Motocross parts store based out of Sweden.
Since 2014, blending and filling their anti-freeze products and supply them to their customers in Turkey that use them as first-fill antifreeze for the 300,000+ cars that are manufactured in Turkey.